E306 and E312 Display and Communications
E306 LCD Display
The E306 monitor includes a local LCD display that indicates the device status and input measurements in a rotation indicated in the chart below:
Display

Description

Message Format

COM:

Communication Status (indicates if the device is properly communicating with the gateway)

[NONE] / [OK]

0:

Internal temperature sensor

[XX.X C] … [XX.X F]

1-6:

Probe 1-6 status; either temperature measurement or dry contact status when used as dry contact input

[XX.X C] … [XX.X F]

OR [OPEN] or [CLOSED]

RH:

Relative humidity (only on monitors equipped with relative humidity)

[XX %]

DP:

Differential pressure (only on monitors equipped with differential pressure)

[XXX P]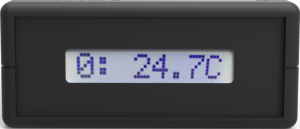 The E312 monitor includes a local LED display that will indicate the device status as well as battery status.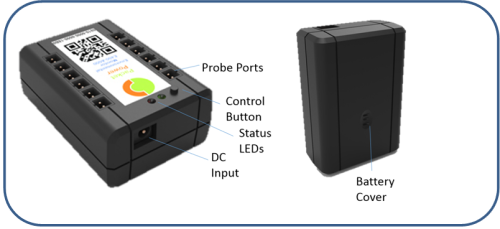 Upgrade Mode (Battery Mode Only)
When the mode button is depressed for more than five seconds when the monitor is in battery mode, the monitor will enter upgrade mode. When in upgrade mode and facilitating remote firmware upgrades, the red LED flashes twice a second for 60 seconds, or until the unit is rebooted. It will also send a periodic test signal, and the green LED flashes if acknowledgement is received.
Open (Non-Connected) and Closed (Shorted) Ports
When no probe is plugged into a probe port, the LCD display and the temperature reading will read "-300 C". "-300 C" reflects a finite number to indicate an unplugged probe port. Similarly, a reading of "+75 C" indicates a dead short on the probe or contact closure. These values can be used to generate alarms for open or closed conditions when using dry contacts in place of temperature probes. Consult Packet Power when using the device for monitoring dry contacts.