E306 and E312 Device Placement
Mounting Devices
Do not locate the monitoring node inside of a fully enclosed metal structure.

Some separation from metallic surfaces improves radio performance.

Mounting brackets provide some separation between the monitoring unit and metal surfaces such as cabinets and can improve radio performance.

The E306 has an optional mounting bracket (PN: MOUNT-EGEM) that includes an adhesive pad and can also be fastened using screws or tie wraps.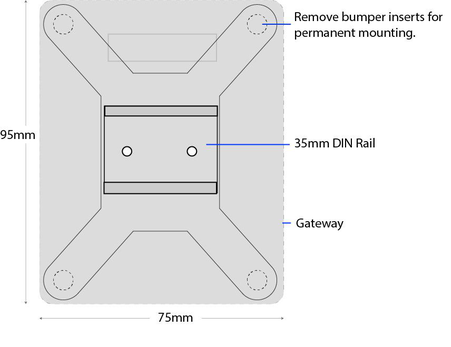 The E312 utilizes a different mounting bracket shown below. This mount comes standard with the device. It facilitates easy removal of the monitor from the mount to allow replacement of the batteries. It comes with an adhesive pad and sheet metal screws, and can also be fastened with tie wraps.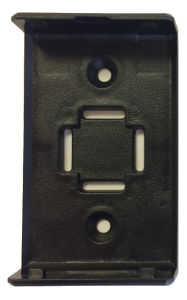 Node Spacing and Operations Modes
Monitoring units must be within 10 to 30 meters (30-100 feet) of another monitoring unit or a Gateway. The network will automatically optimize how traffic flows over the network in order to maximize battery life.

E312 units change behavior when operating on battery power:

Battery units do not act as relays for other Packet Power devices.

Battery units must be able to communicate directly with one of the following:
E312 or E306 Environmental Monitors operating on AC power

Ethernet Gateway V4

AC-powered power monitors
The button on the unit must be held down to start the firmware upgrade process

Plugging the AC power supply into an E312 prevents the unit from using battery power, even if AC power is lost
Always mount monitors at the highest point that allows an unobstructed path to another monitoring node or Gateway.
See also Temperature Probes