E306 and E312 Installation
Probe Ports
Depending on the model of environmental monitor, either 6 or 12 probe ports are available for temperature probes or for dry contact sensors. Packet Power offers temperature probe assemblies that provide options for different numbers of probes per cabinet. Probes can also be purchased separately in lengths from 1 to 15 meters.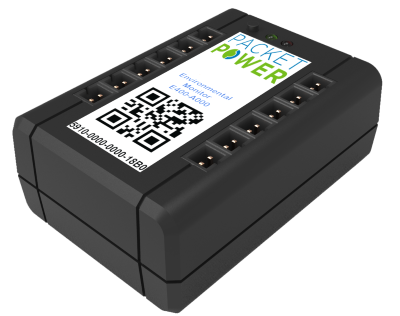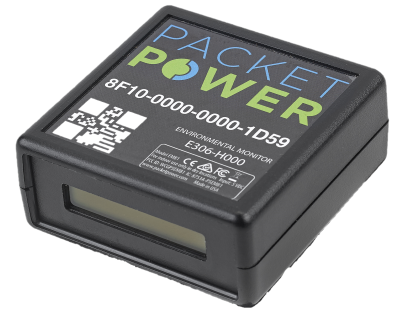 Power Supplies
The E306 models require a 5VDC source. A universal 100-260V AC power supply, which includes plug types for most regions, is included with the E306 device and provides the required 5VDC. The AC power supply is an option for the E312 models. A 5VDC Power over Ethernet (PoE) source can also be used.
The E312 models can run off of battery power, or may use the same optional AC power supply as the E306. Using battery power requires 2 x AA alkaline batteries, which will provide two years of battery life under typical usage. Note that the AA batteries are not a backup to the external power supply. If the external power supply is plugged into the E312, battery power is deactivated. Batteries should not be left in a unit that is powered by the external power supply.
When on battery mode: the device can not receive and relay signals from other devices, but must communicate with the gateway directly, or send its signal to another AC powered node that can relay it to the gateway. It is only possible to use 2.4 GHz transmission when on battery power.
When on AC mode, the battery is not a backup source.
Using a PoE (Power over Ethernet) Power Source
The E306 and E312 models and the Gateway units are not native PoE devices, but can be powered by a PoE source using a standard PoE splitter. The PoE source should have a 5VDC output (not 12 VDC). The monitor and Gateway consume 0.5W and 0.7W respectively.