Current Only Branch Circuit Monitor Modbus Mapping
The following tables detail the Modbus register map for the BG08 Current Only Monitor. For more information on how to access Modbus data see the Modbus TCP/IP section.
The BG08 monitor is a modular device that can accommodate up to eight current monitors each with six current channels for a total of 48 circuits.
Each of the the six channel monitoring modules has a unique 16 digit "GUID" which can be found on the monitor. The GUID will act as the "device ID" for the purposes of Modbus mapping.
Example: Registers for circuit poles 1,3,5,7,9 will all correspond to the GUID for meter number 1. Registers 501-508 will represent channels 1-6 which in turn correspond to pole numbers 1,3,5,7,9,11.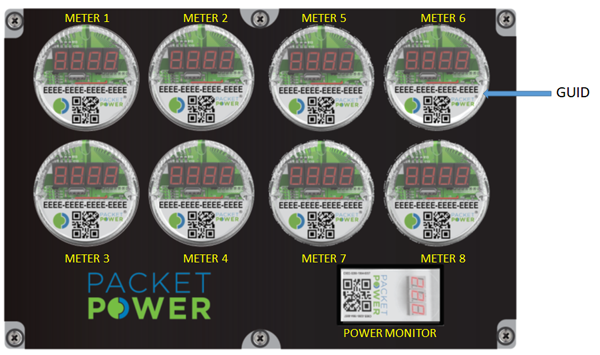 BG08 Modbus Register Map
| Panel Pole (CT ID) | Meter Number | Meter Channel | Device ID (Meter GUID / Device ID) | Register | Expression Syntax | Multiplier | Resolution | Register Value |
| --- | --- | --- | --- | --- | --- | --- | --- | --- |
| 1 | 1 | 1 | 1 | 501 | R(CurrentA) * 10 | x 10 | 0.1 A | 1 register, big-endian |
| 3 | 1 | 2 | 1 | 502 | R(CurrentB) * 10 | x 10 | 0.1 A | 1 register, big-endian |
| 5 | 1 | 3 | 1 | 503 | R(CurrentC) * 10 | x 10 | 0.1 A | 1 register, big-endian |
| 7 | 1 | 4 | 1 | 504 | R(CurrentD) * 10 | x 10 | 0.1 A | 1 register, big-endian |
| 9 | 1 | 5 | 1 | 505 | R(CurrentE) * 10 | x 10 | 0.1 A | 1 register, big-endian |
| 11 | 1 | 6 | 1 | 506 | R(CurrentF) * 10 | x 10 | 0.1 A | 1 register, big-endian |
| 13 | 2 | 1 | 2 | 501 | R(CurrentA) * 10 | x 10 | 0.1 A | 1 register, big-endian |
| 15 | 2 | 2 | 2 | 502 | R(CurrentB) * 10 | x 10 | 0.1 A | 1 register, big-endian |
| 17 | 2 | 3 | 2 | 503 | R(CurrentC) * 10 | x 10 | 0.1 A | 1 register, big-endian |
| 19 | 2 | 4 | 2 | 504 | R(CurrentD) * 10 | x 10 | 0.1 A | 1 register, big-endian |
| 21 | 2 | 5 | 2 | 505 | R(CurrentE) * 10 | x 10 | 0.1 A | 1 register, big-endian |
| 23 | 2 | 6 | 2 | 506 | R(CurrentF) * 10 | x 10 | 0.1 A | 1 register, big-endian |
| 25 | 3 | 1 | 3 | 501 | R(CurrentA) * 10 | x 10 | 0.1 A | 1 register, big-endian |
| 27 | 3 | 2 | 3 | 502 | R(CurrentB) * 10 | x 10 | 0.1 A | 1 register, big-endian |
| 29 | 3 | 3 | 3 | 503 | R(CurrentC) * 10 | x 10 | 0.1 A | 1 register, big-endian |
| 31 | 3 | 4 | 3 | 504 | R(CurrentD) * 10 | x 10 | 0.1 A | 1 register, big-endian |
| 33 | 3 | 5 | 3 | 505 | R(CurrentE) * 10 | x 10 | 0.1 A | 1 register, big-endian |
| 35 | 3 | 6 | 3 | 506 | R(CurrentF) * 10 | x 10 | 0.1 A | 1 register, big-endian |
| 37 | 4 | 1 | 4 | 501 | R(CurrentA) * 10 | x 10 | 0.1 A | 1 register, big-endian |
| 39 | 4 | 2 | 4 | 502 | R(CurrentB) * 10 | x 10 | 0.1 A | 1 register, big-endian |
| 41 | 4 | 3 | 4 | 503 | R(CurrentC) * 10 | x 10 | 0.1 A | 1 register, big-endian |
| 43 | 4 | 5 | 4 | 504 | R(CurrentD) * 10 | x 10 | 0.1 A | 1 register, big-endian |
| 45 | 4 | 4 | 4 | 505 | R(CurrentE) * 10 | x 10 | 0.1 A | 1 register, big-endian |
| 47 | 4 | 6 | 4 | 506 | R(CurrentF) * 10 | x 10 | 0.1 A | 1 register, big-endian |
| Panel Pole (CT ID) | Meter Number | Meter Channel | Device ID (Meter GUID) | Regsiter | Expression Syntax | Multiplier | Resolution | Register Value |
| --- | --- | --- | --- | --- | --- | --- | --- | --- |
| 2 | 1 | 1 | 5 | 501 | R(CurrentA) * 10 | x 10 | 0.1 A | 1 register, big-endian |
| 4 | 1 | 2 | 5 | 502 | R(CurrentB) * 10 | x 10 | 0.1 A | 1 register, big-endian |
| 6 | 1 | 3 | 5 | 503 | R(CurrentC) * 10 | x 10 | 0.1 A | 1 register, big-endian |
| 8 | 1 | 4 | 5 | 504 | R(CurrentD) * 10 | x 10 | 0.1 A | 1 register, big-endian |
| 10 | 1 | 5 | 5 | 505 | R(CurrentE) * 10 | x 10 | 0.1 A | 1 register, big-endian |
| 12 | 1 | 6 | 5 | 506 | R(CurrentF) * 10 | x 10 | 0.1 A | 1 register, big-endian |
| 14 | 2 | 1 | 6 | 501 | R(CurrentA) * 10 | x 10 | 0.1 A | 1 register, big-endian |
| 16 | 2 | 2 | 6 | 502 | R(CurrentB) * 10 | x 10 | 0.1 A | 1 register, big-endian |
| 18 | 2 | 3 | 6 | 503 | R(CurrentC) * 10 | x 10 | 0.1 A | 1 register, big-endian |
| 20 | 2 | 4 | 6 | 504 | R(CurrentD) * 10 | x 10 | 0.1 A | 1 register, big-endian |
| 22 | 2 | 5 | 6 | 505 | R(CurrentE) * 10 | x 10 | 0.1 A | 1 register, big-endian |
| 24 | 2 | 6 | 6 | 506 | R(CurrentF) * 10 | x 10 | 0.1 A | 1 register, big-endian |
| 26 | 3 | 1 | 7 | 501 | R(CurrentA) * 10 | x 10 | 0.1 A | 1 register, big-endian |
| 28 | 3 | 2 | 7 | 502 | R(CurrentB) * 10 | x 10 | 0.1 A | 1 register, big-endian |
| 30 | 3 | 3 | 7 | 503 | R(CurrentC) * 10 | x 10 | 0.1 A | 1 register, big-endian |
| 32 | 3 | 4 | 7 | 504 | R(CurrentD) * 10 | x 10 | 0.1 A | 1 register, big-endian |
| 34 | 3 | 5 | 7 | 505 | R(CurrentE) * 10 | x 10 | 0.1 A | 1 register, big-endian |
| 36 | 3 | 6 | 7 | 506 | R(CurrentF) * 10 | x 10 | 0.1 A | 1 register, big-endian |
| 38 | 4 | 1 | 8 | 501 | R(CurrentA) * 10 | x 10 | 0.1 A | 1 register, big-endian |
| 40 | 4 | 2 | 8 | 502 | R(CurrentB) * 10 | x 10 | 0.1 A | 1 register, big-endian |
| 42 | 4 | 3 | 8 | 503 | R(CurrentC) * 10 | x 10 | 0.1 A | 1 register, big-endian |
| 44 | 4 | 5 | 8 | 504 | R(CurrentD) * 10 | x 10 | 0.1 A | 1 register, big-endian |
| 46 | 4 | 4 | 8 | 505 | R(CurrentE) * 10 | x 10 | 0.1 A | 1 register, big-endian |
| 48 | 4 | 6 | 8 | 506 | R(CurrentF) * 10 | x 10 | 0.1 A | 1 register, big-endian |